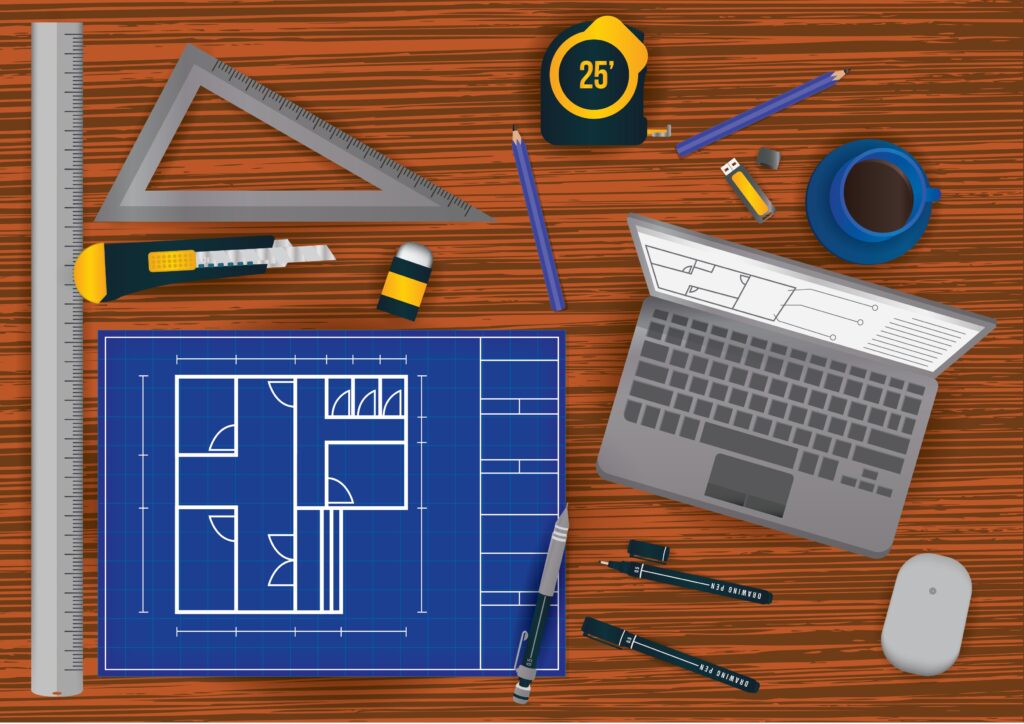 At Colorado Drafting Services, our mission is to help make your vision a reality. We specialize in providing high-quality drafting services for residential and commercial projects across the Grand Junction area. With our experienced team of drafters, engineers, and technicians, we are committed to delivering accurate and reliable results every time.
What Drafting Services We Provide in Grand Junction Colorado Area
At Colorado Drafting Services, we offer a wide variety of services to meet all your drafting needs in Grand Junction and around. Whether you are looking for a simple floor plan or a detailed architectural drawing, we can do it all! Our services include site plan preparation, construction document preparation, 3D modeling, computer-aided design (CAD) drawings, mechanical drawings, civil engineering plans, architectural renderings & floor plans, electrical engineering diagrams & schematics, and plumbing & HVAC drawings. Furthermore, we can create virtual tours that let you explore your project before it even begins!
The Benefits of Working with Drafting Services in Grand Junction 81501
When you work with us at Colorado Drafting Services, you get more than just high-quality drawings—you get peace of mind knowing that your project is being handled by experienced professionals who understand the importance of accuracy. We utilize state-of-the-art technology and software to ensure that our results are precise and up to date with current industry standards. Furthermore, our team is dedicated to providing excellent customer service throughout the entire process so that you can rest assured knowing that your project is in good hands.
Why Colorado Drafting Services Is the Best Choice for Your Next Project in Grand Junction CO 81501
When it comes to producing high-quality drafting and design services, you want a reliable, efficient, and cost-effective company. Colorado Drafting Services in Grand Junction, CO, is the ideal choice for your next project. Here's why.
Highly Experienced Team of Specialists
At Colorado Drafting Services, we have an experienced team of professionals with years of experience in drafting and design. Our team is knowledgeable about the latest trends and technology, allowing us to provide innovative solutions to any problem or challenge that may arise. We also stay up-to-date on all applicable building codes and regulations to ensure that our designs meet all standards required by local Grand Junction authorities.
Comprehensive Solutions
We provide comprehensive drafting and design solutions for various industries—from residential homes and commercial buildings to industrial facilities. Whether you're looking for assistance with a new home design or need help with a to remodel project —Colorado Drafting Services has you covered!
Cost Effective Solutions
We understand that cost is always a factor when hiring drafting services in Grand Junction. That's why we strive to offer competitive rates while delivering top-notch service every time. Our team will work closely with you throughout the entire process, so you can rest assured that your project is handled by experienced professionals dedicated to ensuring your satisfaction from start to finish!
How to Find the Best Drafting Services in Grand Junction
Drafting services are an invaluable asset for any business. It doesn't matter if you need a blueprint for a new building, a schematic for an electrical system, or even a simple drawing. If you're based in Grand Junction, finding the best drafting services is essential to ensure your project runs smoothly and on schedule. Let's break down some key considerations when looking for drafting services in Grand Junction.
Research & References
It can be tempting to go with the first drafting service provider you come across, but taking your time and doing research is always recommended. Look at their website, review their portfolio (if available) and ask questions before making any commitments. It would help if you also asked for recommendations from locals who have used similar services before – word-of-mouth is still one of the most reliable ways to find reputable businesses in any industry.
Quality of Service & Delivery Times
When it comes to drafting services, quality always matters more than speed. Make sure that your chosen provider has experience working with projects of similar complexity and scope as yours – and that they can guarantee timely delivery at no extra cost. A good provider will also offer suggestions on how to improve your project and feedback on design feasibility and potential risks associated with the work being done.
Tools & Technology Used
Drafting technology is constantly evolving, so it's important to ensure that your chosen provider uses up-to-date tools and software packages that meet industry standards. Ask them what kind of software they use and if they have access to 3D printing capabilities as well – this can be especially helpful when creating complex designs or prototypes quickly and accurately.
With these tips in mind, you should now have a better idea of how to find the best drafting services in Grand Junction. Doing research beforehand will help you save time and money later on down the line – so take your time when choosing a service provider!
At Colorado Drafting Services, we are committed to helping bring your ideas to life through our high-quality drafting services. Our experienced team utilizes state-of-the-art technology and software to guarantee accurate results every time. Plus, with our dedication to customer service excellence, you know that your project is always in good hands when working with us! Give us a call today if you want professional help bringing your visions into reality in Grand Junction 81501 Colorado!